ABOUT US!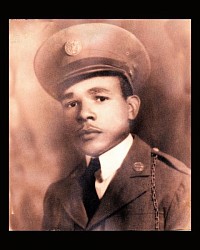 SGT FRED BROCK
American Legion Fred Brock Post #828
Fred Brock of San Antonio did not make it into a combat theater during World War II. The U.S. Army's famous 92nd Division was training at Fort Huachuca, Ariz., when the tech sergeant lost his life in an accident on Aug. 18, 1943, while he was supervising the installation of lines for a field telephone system.
In time, the segregated 92nd would fight in Europe, where more than 2,000 of its soldiers would be wounded, 548 killed in action and two – Vernon Baker and John R. Fox – would receive the Medal of Honor for their actions in Italy.
Brock was the first member of the 92nd – the famed Buffalo Soldiers – to die in uniform during World War II. Seven years after his death, he became the namesake of historically Black American Legion Post 828.
Air Force veteran Al Alford, a member and Past Commander of Post 828 and former Texas District 20 Commander, researched Brock's story.
Alford learned that Brock had graduated from San Antonio's Wheatley High School in 1940 and enlisted in the Army. He was a model soldier and was moving up the ranks when tragedy struck. During his brief stay in the military service, Sgt. Brock received the Expert Rifle Marksmanship and Good Conduct Medals. While at Fort Huachuca, he had the duty of playing reveille and taps for the post. He was an avid sports lover and managed a local softball team.
In 1950, Post 828 took shape from the combination of two other traditionally Black American Legion posts in the area, and Fred Brock became the namesake.